One new feature in version 1.2 is the ability to create new Quantifiers with pre-existing data sets. For example, if you have been keeping track of your car's gas mileage in a spreadsheet or on paper and would like to migrate to the app, it's now possible. What you'll need to do is generate a .csv (comma-separated values) file with your data set (here's a good simple guide on how to do this with a few common applications).
The .csv file should be in the following format (and in this case the file should be called Gas_Mileage.csv):
Timestamp,Gas Mileage
2013-10-05 12:32:48,29.69
2013-10-13 12:08:08,27.12
2013-10-29 15:22:16,24.08
2013-11-12 09:47:56,24.31
A few notes:
The file name should have no spaces (" "), but instead use underscores ("_"). This requirement will go away in the next version.
Dates should be in the format YYYY-MM-DD HH:MM:SS
All values should be positive or zero.
Avoid extraneous characters, spaces, empty lines, etc.
Once you have made this file, ensure that you have linked the app with Dropbox via the Settings menu. If you don't have a Dropbox account, you can make one within the app, or you can sign up here.
On your computer, navigate to Quantifier's folder in your Dropbox. This is found at Dropbox\Apps\Quantifier. Drop your new .csv file there. Give it a moment to sync.
Head back to Quantifier's Settings, and tap "Import files from Dropbox". After a second of going to space and back, cauldron stirring, and other assorted sorcery, the data set will be imported. It's ready to update with new data, and changes will automatically be reflected in the file in your Dropbox. Magic!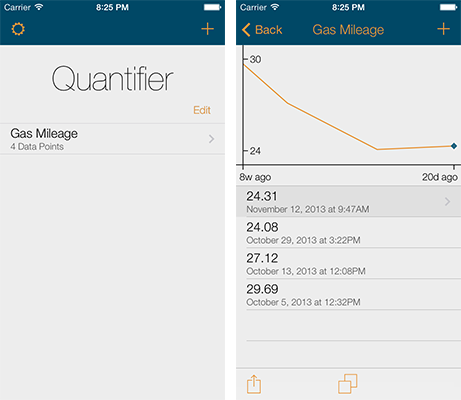 Now go start collecting data! Get in touch with me with any questions, suggestions, haikus, or fart jokes you may have on twitter (@QuantifierApp) or at dev@quantifierapp.com.